Starfield
RPG
Starfield is the first new universe in 25 years from Bethesda Game Studios, the award-winning creators of The Elder Scrolls V: Skyrim and Fallout 4.
Starfield is the first new universe in 25 years from Bethesda Game Studios, the award-winning creators of The Elder Scrolls V: Skyrim and Fallout 4.
| | |
| --- | --- |
| Release Date | 5 сентября 2023 г. |
| Developers | Bethesda Game Studios |
| Publishers | Bethesda Softworks |
| OS | Windows |
| Language | Interface | Voiceover | Subtitles |
| --- | --- | --- | --- |
| English | | | |
| Spanish | | | |
| Italian | | | |
| German | | | |
| Russian | | | |
View all supported languages (25)
Media
Minimal
OS: Windows 10 version 21H1 (10.0.19043)

Processor: AMD Ryzen 5 2600X, Intel Core i7-6800K

Memory: 16 GB RAM

Graphics: AMD Radeon RX 5700, NVIDIA GeForce 1070 Ti

DirectX: Version 12

Storage: 125 GB available space

Additional Notes: SSD Required
Recommended
OS: Windows 10/11 with updates

Processor: AMD Ryzen 5 3600X, Intel i5-10600K

Memory: 16 GB RAM

Graphics: AMD Radeon RX 6800 XT, NVIDIA GeForce RTX 2080

DirectX: Version 12

Network: Broadband Internet connection

Storage: 125 GB available space

Additional Notes: SSD Required
Share it with your friends
Description
STARFIELD DIGITAL PREMIUM EDITION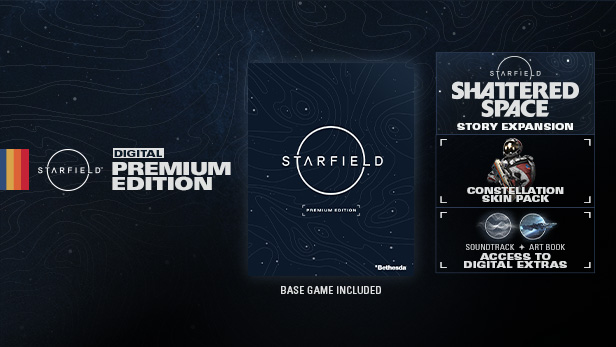 Premium Edition includes:
Starfield Base Game
Shattered Space Story Expansion (upon release)
Constellation Skin Pack: Equinox Laser Rifle, Spacesuit, Helmet and Boost Pack
Access to Starfield Digital Artbook & Original Soundtrack
About the Game
Starfield is the first new universe in over 25 years from Bethesda Game Studios, the award-winning creators of The Elder Scrolls V: Skyrim and Fallout 4. In this next generation role-playing game set amongst the stars, create any character you want and explore with unparalleled freedom as you embark on an epic journey to answer humanity's greatest mystery.
In the year 2330, humanity has ventured beyond our solar system, settling new planets, and living as a spacefaring people. You will join Constellation – the last group of space explorers seeking rare artifacts throughout the galaxy – and navigate the vast expanse of space in Bethesda Game Studios' biggest and most ambitious game.
Tell Your story
In Starfield the most important story is the one you tell with your character. Start your journey by customizing your appearance and deciding your Background and Traits. Will you be an experienced explorer, a charming diplomat, a stealthy cyber runner, or something else entirely? The choice is yours. Decide who you will be and what you will become.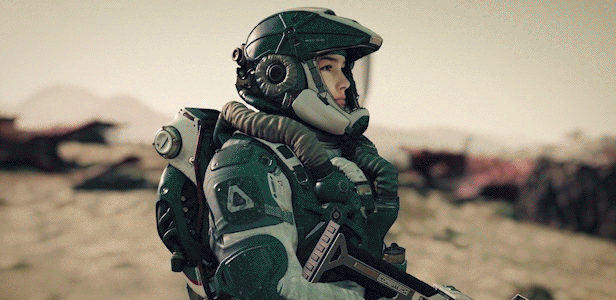 Explore Outer Space
Venture through the stars and explore more than 1000 planets. Navigate bustling cities, explore dangerous bases, and traverse wild landscapes. Meet and recruit a memorable cast of characters, join in the adventures of various factions, and embark on quests across the Settled Systems. A new story or experience is always waiting to be discovered.
Captain the Ship Of Your Dreams
Pilot and command the ship of your dreams. Personalize the look of your ship, modify critical systems including weapons and shields, and assign crew members to provide unique bonuses. In deep space you will engage in high-stakes dogfights, encounter random missions, dock at star stations, and even board and commandeer enemy ships to add to your collection.
Discover, Collect, Build
Explore planets and discover the fauna, flora, and resources needed to craft everything from medicine and food to equipment and weapons. Build outposts and hire a crew to passively extract materials and establish cargo links to transfer resources between them. Invest these raw materials into research projects to unlock unique crafting recipes.
Lock and Load
Space can be a dangerous place. A refined combat system gives you the tools to deal with any situation. Whether you prefer long-range rifles, laser weapons, or demolitions, each weapon type can be modified to complement your playstyle. Zero G environments add a chaotic spectacle to combat, while boost packs give players freedom to maneuver like never before.
Reviews about the game
77hrs in: "finished" starfield. Now, it has a NG+ mode which is intriguing, so I'm actually still playing it ... but the story actively encourages you to finish it multiple times .. and restart over and over and over, which is ... curious. So I'm onboard. I'm still on the fence about the title as a whole. Enjoying it? Yes, very much. But it's hard to compare to previous titles (such as Fallout4) because I ended up playing those in a heavily modded state, which skews my memory of the raw, unmodded game. Starfield is currently raw and unmodded. It is an RPG. It's a story. It's not about exploration, space flight, or space trucking. It's an adventure. It has a story and you are a participant. The Bethesda feel is here in spades, and that includes a clunky interface with awful/useless filters and options (gadamn Bethesda, will you grow up and modernize this already? jesus) There are some bugs. Even after a year of testing, I have encountered a couple of showstoppers. There are some annoying quirks I am surprised did not get addressed in the 1 year of polish they went through. I think Bethesda has also backed themselves into a corner with their Creation Engine 2. It's essentially the same architecture as CE #1, with all the same limitations. The concept of 'cells' for building transitions, or area transitions is ... old. So to completely rebuild their engine, but to do so in a way that has a old, outdated architecture was a weird decision that I think will box them in for the decade to come. All of their future games may be "better", but they will all "feel old". Move into a building? loading screen. move out? loading screen. board ship? loading screen. Take off form the planet? loading screen. Fly to another system? loading screen. Fly to another planet? loading screen Land? loading screen. Enter the mining facility? loading screen. Room inside the facility? loading screen. It ends up feeling very much like a series of interconnected 'cells' where you get to do things before you transition to the next cell. And in a world where games have demonstrated the ability to transition more smoothly - even invisibly - I question why Bethesda has hung their hat on such an archaic way of doing things. It makes their largest game yet feel "small". Blasting across the universe across multiple planetary systems is ... a loading screen. And I'm not talking about the ability to fast travel and skip everything, but simply going from A->B is ... a loading screen. Every time. There is no planetary exploration and anyone who says otherwise is misguided. Planets are procedurally generated. You land in a cell. That cell has boundaries. That cell will be populated with a very limited set of re-used POIs (One day I got the same POI 3 times). The novelty of the first exploration morphs into routine as you realize that basically you have landed in a medium sized procedurally generated terrain cell with half a dozen random things throw in it for you to walk to and explore. It feels like a sandbox a dev might make up as a proof of concept. Want to move a little further 'east' to explore more? take off (loading) click a new area, land (loading) and you get a new cell with a sprinkle of POIs in it. Enjoy. And far, far, far too much of the 'quest structure' are fetch quests, and I will fight anyone who disagrees with me on that. Faaaaaaaaaaaaaaar too many fetch-style quests. Heck, the main effing story is a fetch quest. Exploring a planet is a fetch quest, where you don't know where anything is and you might spend 2 hrs trying to figure out where that last "1 fauna of 9" is located ... while effing walking everywhere. Te - di - ous. I have always felt that Bethesda creates great experiences, and even better foundations for modders to go nuts with, and it's the modded experience that really makes it for me. Here Starfield absolutely and firmly falls into that camp. It is a great foundation for what is to come. Don't get me wrong, I have been enjoying the experience and I will continue to do so, but I am looking forward to mods buffing out the Bethesda quirks and menu annoyances, and hopefully some reason to build an outpost (because right now there isn't one). Currently ... I think I will give this a 6.5 or 7 out of 10. Tops.
Blind Raccoon
I recommend
[h1]Space is the backdrop, not the playground[/h1] With a title like that, you're probably expecting me to say Starfield was disappointing. This could not be further from my true feelings about the game. To put it bluntly, Starfield's space travel is inferior to No Man's Sky or Elite:Dangerous. If you are looking for a game where you can live in your ship and chill with your crew as you drift towards your next destination, Starfield will not fulfill your dreams. Space is simply used as the backdrop for something much bigger than Bethesda has ever done before. That's not to say space travel isn't important. It is very important! But most of the time, space is used as a means of getting from one planet to another via fast travel/warping. [b]Space is just a loading screen... or is it?[/b] You might ask "Does anything happen in space, since it's just a loading screen?" The answer is actually yes! Very often! During warps, the game will run a check of your route to see if you would run into any random events. If so, you will be sent out of the loading screen and back into space. You can interact with the random event, or simply begin fast travel again. In my opinion, this simply cuts out all the slow moments of space travel and highlights the fun parts. Although, there is a catch. To trigger the route check, you will have to already be in space. Make sure to take off in your ship whenever you want to fast travel. In the case you forget to do so, random events can still happen but only at the destination of your warp. The vastness of space and the insane number and variety of planets are the main attraction of Starfield. If you are familiar with Bethesda games, walking and talking is a large majority of your time. This is no different in Starfield, as you explore hundreds of unique locations (not even counting thousands of procedurally generated), and meet all kinds of friendly, not-so-friendly, lunatic, suspicious, and funny characters along your journeys. [b]RPG is back, but different[/b] Starfield is a game that arguably outshines previous Bethesda titles. The scale is larger, with no sacrifices to the mechanics they've had in the past. In Fallout 4, Bethesda simplified decision-making and the RPG elements in favor of improving the gunplay which leaves the game feeling more like an adventure-shooter than an RPG. Even Skyrim could be argued, with the removal of leveling stats, reduced how much you could create your perfect character to roleplay as. In Starfield, stats/attributes do not come back. But in its place is an interesting return to the RPG roots. While you don't have stats or attributes in Starfield (such as Strength, Intelligence, Luck, etc), it presents a different way to represent and express the kind of person you want to play as. Your background, chosen traits, leveled skills, and factions you've joined properly and consistently take control of almost every situation the game puts you in. Skills are another new alternative to stats. New dialogue options will be available based on what skills you choose to level. Sometimes you need to let someone know you're sneakier than other people, or that you have experience in cyber security. People can even recognize if you're a well-trained pilot or gunman. [b]Who you are matters[/b] In the beginning, I thought this was a mere farce- an illusion. Perhaps they simply placed many opportunities early on, to show off roleplaying elements, to trick me. There's no way I would be able to use my background as a Space Scoundrel or my allegiance with the Crimson Fleet for more than just a couple dialogue options, right? After completing three major questlines, dozens of side quests, and the main story quest, I've invested more 50 hours into Starfield over four days- an average of 12.5 hours every day. With confidence, I can report that the choices I made at character selection as well as the choices I've made during the game: who I allied with during a side quest, the factions I've decided to pledge allegiance to, the people I've killed or the people I didn't kill. All of these things felt like they mattered in countless dialogue choices. I was never worried that the character I built did not matter- the opportunities jumped at me constantly. Many times I even had to choose between the different things that defined my character in the same interaction. One moment that really impressed me was that factions are actually consistent in Starfield. In previous Bethesda games, joining a hostile faction did not always guarantee your safety against its members. Some used excuses such as "We may be the same faction, but all of us follow different rules." It was a sad attempt at passing their programming (or lack thereof) for normally hostile NPCs recognizing the player as an ally. In Starfield, this is not the case. Minor spoilers in this paragraph. On my first playthrough, I joined the Crimson Fleet, the most notorious pirate crew among the stars. In an early mission during the main story, I had to rescue a friend from the Crimson Fleet. I entered their lair where they were holding the hostage, ready to enter a shoot-out. To my extreme but pleasant surprise, none of the pirates shot at me. I could walk up and even begin conversations with some of them. They recognized me as one of their own, and did not blink an eye at either me or my companion. I was able to reach the bottom of the lair without any conflict, and the game even properly acknowledged it. Minor spoilers end here. [b]The rest of the game? Gunplay, crafting, and more[/b] I started with the space exploration and RPG elements because I believe they are the most controversial and sought-after pieces of information. The rest of the game, though? Almost entirely improved over Fallout 4. The gunplay is chef's kiss (for a Bethesda game). Piloting a ship is reminiscent of No Man's Sky. Ship-building is extensive, but quite easy to start playing around with. The crafting is still simple and satisfying. Much of crafting is still locked behind skills, just like Fallout 4, but Starfield did not feel as difficult to reach as FO4 did. The handcrafted maps are arguably their most detailed and beautiful designs yet. The balance has been very adequate for me personally. I could feel my character getting stronger, more skilled, but also enemies always provided a decent challenge. Nothing was too easy or too difficult- I never had to change difficulty from Normal mode. I've heard complaints that later on, enemies get very bullet-spongey, but I simply have never had that issue and I mainly used handguns. While there is an enormous variety of skills to pick from, leveling is fast enough where I never felt like I needed to save my skill points (as some skills have requisites to level). If I didn't meet the requirements yet, I simply leveled a different skill and waited for next level to try and improve the other skill. [b]It's not perfect[/b] It does miss some things their previous games did as well. But it's a Bethesda game through and through. Beautiful environments, fantastic immersion and storytelling. Fulfilling the fantasy of living in another universe, especially in space. Starfield has become a game I'd love to play again and again. Bethesda has restored my trust in them, even after the launch state of FO76 and the reduction of RPG elements in FO4. I look forward to future updates, the DLC, and TES 6. I hope you can play Starfield, come to your own conclusions, and hopefully enjoy the same things I was able to as well.
Like Mongoose
I recommend
In just 30 hours I have: - Shot down several starships and collect their bounties - Boarded a ship on the ground and hijacked it mid-air - Blew all my money modifying said ship - Learned how to make drugs - Trafficked said drugs - Fought in a gang war - Got a white collar office job - Got a blue collar assembly line job - Used both jobs to commit crimes - Committed corporate espionage - Helped an electrician solve power outages - Stole the jackpot from an abandoned zero-g space casino - Picked sides in a marital argument - Sold water to a deserted starship at 300% markup - Built a house - Gained superpowers - Been too busy to notice the deteriorating nature of my real-world friendships and relationships, because who else is gonna deliver 200kg of copper to the Stroud Eklund Staryard?
Evolutionary Gerbil
I recommend
Spreading my seed across galaxies, ensuring the survival of the bloodline of John Starfield, with a little corporate espionage on the side. Godd Howard for sure did it again, 16x the detail this time. NPCs do be staring deeply into your soul though.
Ethical Guppy
I recommend
It's not the best thing since sliced bread, but it's a solid bethesda game with tons of content. Just don't go in looking for the next Elite Dangerous or No Man's Sky.
Distant Eel
I recommend
The more I play Starfield the smaller it feels. Infinitely smaller than any of Bethesda's previous titles, which is ironic considering the scale of the universe they are attempting to create. For the first time after less than 100 hours I feel like a Bethesda game has nothing new to show me. No reward for wandering off into the far corners of the map, no prospects of anything new beyond what I've experienced beyond level 30. It's a world without a soul and no interesting history within it. Bethesda has always been fantastic at making their worlds feel lived in. They add history to every location, a story to be told. Whether it's an ancient dungeon, a capital city or a car factory that raiders just so happened to take up refuge in. There always seemed to be a reason for these locations to exist aside from simply being for the player to discover. Unfortunately, generated content has taken their biggest strength and stretched it so thin the other cracks in their armor become much more apparent. The interesting, hand crafted overworlds have been turned into vast expanses of boredom, populated only by alien life that wanders aimlessly and dotted with copy and pasted locations on each planet. The reasons for each of these enemies or locations to exist are gone, instead they are placed there based on the algorithm saying this planet needs a predator, and drawing from a handful of randomized creatures to fill the role, or it needs an outpost so it takes the same bio laboratory you saw on a planet at level 5 and has it appear again at level 50 with higher level enemies. Even the main storyline in the game uses this generated content, which stands out like a sore thumb since the hand crafted locations that are still present are often the highest points of the game. They just feel drowned out in a sea of garbage. The cities however are fantastic. It feels like most of the effort was put into making them feel like a large metropolis with loads of side quests, with many being very well written. This is at odds with the main story that borders on the nonsensical. The entire premise of Constellation as an organization doesn't make sense. They claim to be a group that discovers the unknown to find "what's out there", yet they seemingly haven't discovered anything in their decades of existence. What do they actually do? They only explore within the settled systems, so they don't go anywhere new. Heck, they haven't even scanned the plants and animals on their home planet, much less anywhere else. The organization only exists for the player to discover new things, so it having existed previously makes zero sense. The entire first act of the game should have been about forming Constellation and recruiting people that WANT to go and find new stuff. The general gameplay elements have definitely been improved on. I can't tell you how nice it is to play a Bethesda title that allows you to grab a ledge and climb up it. The shooting mechanics feel tighter, the traversal is nice and there are various quality of life improvements. But if we're being honest, these were all mechanics and improvements that have been in games for well over a decade and feels more like catch-up. That being said, there is a ton of recycled content from both Skyrim and Fallout at play. Legendary effects being copy/pasted from Fallout items or Skyrim spells, repurposed dragon shouts as powers, etc. It's a shame that there really isn't much gameplay when you actually explore a planet, or go hunting for artifacts and temples. There are so many locations completely devoid of life, with absolutely nothing interesting going on. Nearly every mine you explore for example is unpopulated, or at the most has a few native alien enemies. Once again, they only have a few select layouts that repeat on every planet. I like the space combat and ship utilization. It's simple, sure, but it works well enough and is a nice break from being on the ground all the time. There's nothing groundbreaking going on here. The game shines with ship customization. I've spent hours trying to get my ship just right and make it unique. There are very much improvements to be had that I would love to see though. Being able to preview interiors and choose the locations of ladders and doors would be great. Right now the ship becomes a maze because you don't know where those will end up. Outpost building is a gigantic chore and very frustrating. I adored building settlements in Fallout 4, but the amount of different components needed to create simple items and buildings in Starfield is ludicrous, as is your storage and carry capacity. You find yourself fast travelling constantly to buy a limited amount of a resource you need, because hunting for it is stupidly time consuming. In Fallout 4, you could just run to the nearest location and grab all the junk you could haul, then store it at the infinite workshop storage. That's not the case here, so if you find resources you'll just ignore them. That is, until you need them and have to go five minutes out of your way just to find aluminium to build a small habitat. I say all this but am still enjoying chunks of the game because there are still magical bits to the world, stories and mechanics. It really just feels buried beneath a bunch of white noise and failed attempts at refining systems. Overall, despite enjoying the game at points, this feels like a huge regression in Bethesda's strengths and a highlight of their biggest flaws. The improved and refined mechanics only bring it closer to modern counterparts, which is not enough to set it apart. You can find both my first 10 hours and 50 hours impressions here for more, if you are so inclined. https://www.youtube.com/watch?v=INgrvk1NvWE&t=676s&ab_channel=IAmPattyJack https://www.youtube.com/watch?v=yXQU5ylbU-E&t=551s&ab_channel=IAmPattyJack https://www.youtube.com/watch?v=uRzDxUinaEM&ab_channel=IAmPattyJack
Continuing Rodent
I don't recommend