Sea of Stars
Adventure, Indie, RPG
Sea of Stars is a turn-based RPG inspired by the classics. It tells the story of two Children of the Solstice who will combine the powers of the sun and moon to perform Eclipse Magic, the only force capable of fending off the monstrous creations of the evil alchemist known as The Fleshmancer.
Sea of Stars is a turn-based RPG inspired by the classics. It tells the story of two Children of the Solstice who will combine the powers of the sun and moon to perform Eclipse Magic, the only force capable of fending off the monstrous creations of the evil alchemist known as The Fleshmancer.
| | |
| --- | --- |
| Release Date | 28 августа 2023 г. |
| Developers | Sabotage Studio |
| Publishers | Sabotage Studio |
| OS | Windows |
| Language | Interface | Voiceover | Subtitles |
| --- | --- | --- | --- |
| English | | | |
| Spanish | | | |
| Italian | | | |
| German | | | |
| Russian | | | |
View all supported languages (25)
Media
Minimal
OS: Windows 7, Windows 10

Processor: Intel Core 2 Duo E8600 or AMD Phenom II X4 945

Memory: 4 GB RAM

Graphics: AMD Radeon R5 230 or Nvidia GeForce GT 520

DirectX: Version 11

Storage: 5 GB available space
Recommended
OS: Windows 7, Windows 10

Processor: AMD FX 4300 or Intel Core i3 2120

Memory: 8 GB RAM

Graphics: AMD Radeon R5 340X or Nvidia GeForce GTS 450

DirectX: Version 11

Storage: 5 GB available space
Share it with your friends
Description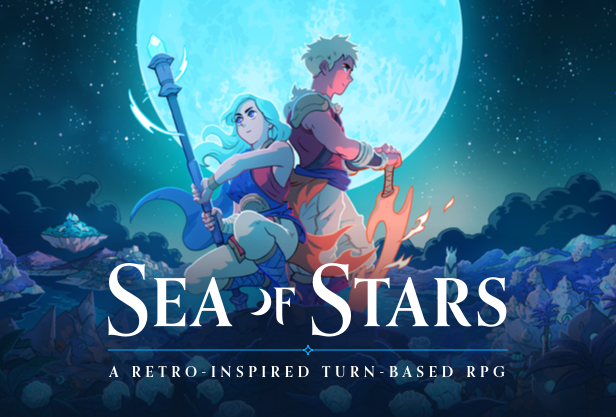 Promising the Sabotage touch in every system, Sea of Stars aims to modernize the classic RPG in terms of turn-based combat, storytelling, exploration and interactions with the environment, while still offering a hearty slice of nostalgia and good old, simple fun.

Pressing the action button in sync with the animations increases damage output while reducing incoming damage. Along with timed hits, combat features multi-character combo attacks, boosting, and a strategic "locks" system offering options to play with different damage types in order to hinder enemies while they are channeling powerful attacks or spells, all in an immersive take on the genre; no random encounters, no transitions to separate battlefields, and no grinding.
Swim, climb, vault, jump off or hoist up ledges as you traverse seamlessly through the world with a navigation system based on platformer expertise that breaks free from the classic bound-to-the-grid tileset movement.

Our custom-made render pipeline allows the creation of a breathtaking world coming to life by pushing the limits of 2D pixel-art games.

Dozens of original characters and story arcs will take you on a captivating journey. Sometimes epic, sometimes silly, and other times emotional, Sea of Stars does its RPG duty of exploring classic themes of adventure and friendship, while also being chock-full of the unexpected twists and events you'd expect from a Sabotage production.

There are many ways to hang out in the world of Sea of Stars if you feel the need for a change of pace in your adventures. Sailing, cooking, fishing, stopping by a tavern to listen to a song or play the infamous tabletop game known as "Wheels".....every system has been designed to deliver an experience that pays respect to retro classics, while rethinking in some areas to offer a smooth and modernized experience.
Reviews about the game
This game takes me back. Its saturday afternoon, cartoons are over, its just me and the snes. Mom just told me shes ordering pizza and its gonna be a good night.
Nearby Barracuda
I recommend
The Golden Sun experience of my dreams
Collective Porcupine
I recommend
It is passionfilled games like these that make corporate cashgrabs filled with gacha and battlepasses an absolute embarrassment. This is what real art looks like.
Unknown Piranha
I recommend
Let me just start by saying this game launched with the INCREDIBLY unfortunate problem of having the wrong set of English scripts loaded into the game and that resulted in the first 8-ish hours of content basically being filled with placeholder text. Hell, even the long-term collectible figure minigame had game code in the dialogue boxes for the tutorial. This has been fixed as of September 1st, but that still means the [i] overwhelming majority [/i] of negative reviews complaining about poor writing quality, lack of punctation, etc. are no longer true. (Edit: I've gone through the prologue chapters again. While the earlier sections of the game [i] have [/i] been touched up, they're still not nearly up to the standard set by the rest of the game. If you're not willing to read through 100 lines of mediocrity under the promise of eating good later on, I'd advise against buying.) Okay, actual review - Pretty much everything is excellent. The most-commonly-praised aspects are the music and overall art, with the environmental designs being easily some of the best in the industry, though the actual maps are fairly linear. The music consistently hits a high bar, to the point that boss fights often took a good minute to actually get started since I'd just idle in menu and listen for a bit. Additionally, nearly every song in the game has versions for both day and night, as well as a tavern-band style doppelganger that you can play at every inn once you find the related sheet music. They spent a ton of effort on the OST alone and it paid off pretty well, and that's ignoring the fact that they got Chrono Trigger's composer Yasunori Mitsuda for a chunk of it. The combat is probably the weakest part of the game, but not by much. Basic combat overview is as follows: Everyone has fairly low mana capacity which can be restored with basic attacks, you can lower damage taken/increase damage dealt by timing button presses, and doing certain things fills up a meter that's used for tag-team/combo attacks + a separate meter that's used for ultimate attacks (though that last one takes a while to unlock). There're 2 fairly-unique mechanics, Locks and Raw Mana. Whenever an enemy starts up a special attack, you have the opportunity to interrupt it by hitting it with enough hits of certain damage types, indicated by the "locks" above the enemy. Smaller moves usually have 2-4 locks, while big moves often have 6 or more. Even if you can't interrupt the enemy, destroying even a few of the locks will weaken the power of the move. Raw Mana, meanwhile, is a resource you generate with basic attacks that can be spent to increase damage output for your next attack, in addition to adding magic damage to non-magical moves. This can be used for things such as breaking locks, getting around high-physical-defense enemies without spending mana, or adding a hefty damage bonus. Overall the combat is fairly simple while still being engaging due to resource management and the lock system, which organically adds puzzle elements to boss fights. Figuring out what moves you need to do in order to make that mage fizzle the nuke they're prepping is satisfying to pull off, and the lock system in general gives you a good reason to use everyone in your party instead of focusing on 2-3 people. There are some caveats to the combat, however, with the most common complaint being every character's moveset. Everyone gets 3 moves, an ultimate, and at least 1 combo attack with every other member. That's it. The devs ditched the RPG standard of constantly upgrading your moves fire>fira>firaga-style in favor of every character getting a well-rounded kit as well as a niche to fill; everyone can (and should) deal damage, all but 1 character can heal, and everyone does everything in different ways. There's no dedicated roles and I personally think the game's better off for it, but I can understand people getting annoyed over the relative lack of options. There's also the slight issue of the lock system (rarely) behaving in strange ways; sometimes I'd start a battle and an enemy would have a lock I can't break without a combo attack, which is impossible to do turn-1. There was also a brief portion of the game where I was getting locks for a damage type I didn't even have yet. It was only a few minutes until I got the required character for it, but I hope these things gets fixed. Finally, we have the story - it's relatively simple, yet still impactful - the kind that anyone can enjoy, but might be left wanting if they're looking for political messages or detail-heavy worldbuilding. The main duo are both psuedo-self-inserts that are fairly normal personality-wise and don't really do much to define themselves. The story's set in a way that you see these two from childhood to young adulthood - no dark backstory, no complex motivations, nothing tragic about these two. Most of the would-be writing for them is instead funneled into their friend who rounds out the starting party, and I have half a mind to think this fucker will go down in history as one of the greatest RPG bro-types of all-time. Dude's awesome. I don't want to say too much about the later party members, but they're all pretty damn good, although one is lacking in terms of character and instead has a cool-yet-adorable set of animations. The actual overarching plot takes a while to get started (I got to it at around the 6-hour mark, some people got to it at 12), but I'd say it's excellent. The main villain's interesting and the game likes to throw around a bunch of neat ideas for regions and artifacts - a mountain that had holes carved in it in order to play a lullaby to lull a destructive dragon to sleep, and a book that magically records the history of detailed objects it touches, to name a couple. There's some particularly creative stuff later on but I won't detail it here. The weakest part of the game writing-wise - first few areas aside - is definitely the ending. [spoiler] The default ending is a slap in the face, and that's putting it lightly. You NEED to get the true ending in order to get something good (thankfully the conditions are mostly-lenient, just do optional bosses and get a bunch of collectibles), but even then there's a decent number of plot threads that seem to be left hanging, at least at first glance. Apparently the devs have been running an ARG/Alternate Reality Game in their Discord server since around 2018 and that ties into both this game and The Messenger, enabling the community to interact with characters and affect the story of upcoming games. I've looked into it and it's pretty damn interesting, but there's no indication of this within the game itself and a good chunk of players are going to be missing out. [/spoiler] If you haven't played it already, the demo's a very good indicator of whether you'll enjoy the gameplay, music and map design. The spike in writing quality is, rather inconveniently, only apparent for all the content [i] after [/i] the bits that the demo covers. This is a very good title if you can get past the start of it.
Increasing Ermine
I recommend
If you love Chrono Trigger, you will like Sea of Stars. The beginning has that same mystical aura that washed over me the first time I played Chrono Trigger on my SNES in August 1995 on my 16th birthday. I love Sea of Stars so far, and it's flawless on the Steam Deck.
Accessible Lemur
I recommend
All I have to say, is 1 word. Wow. This game is just us kids back in the early to mid 90's playing Chorno Trigger all over again. But instead being kids, we transformed to "boring" adults. And one of those kids, wanted another Chrono Trigger 2, but the big adults said "NO!" So one the kids, promised to everyone, one day, they will make another game just like CT, and everyone will be happy with joy. Fast forward to 2023, and the dream is indeed real. This game screams nostalgia for those fans. Nothing but amazing from what I've played from the demo. The game also has this this subtle love for Lunar Silver Star Story. With the love of exploring /adventures. Which is alone makes me fan. The gameplay is just so rich, and very fun. You can't just sit there and press 1 button to attack. No. You have to watch cause some attacks requires you to focus, and do some combos. Neat idea to stay on your 2 feet. The music really good. Capture the world you're playing. To every team who worked on this game, just wanna say thank you and keeping the kids in the past happy. 5 stars from what I've played, and if you're a fan of old school JRPG, then you owe to yourself to try it. You won't be sorry. Hopefully Top 5 games this year for me? Sea Of Stars is a fitting name for a grand legacy that hopefully big devs can make your dreams bigger than the stars itself. Big Thumbs Up indeed!
Acute Newt
I recommend